Hundreds gathered at Menlo Park Presbyterian Church on Friday to remember Tom Martinez of Menlo Park, a longtime coach at the College of San Mateo who was a mentor and quarterback coach to Tom Brady of the New England Patriots. Mr. Martinez died Tuesday, Feb. 21, on his 67th birthday, of a heart attack during a dialysis session while awaiting a kidney transplant.
Tom Brady, a two-time winner of the Super Bowl MVP award and a native of San Mateo, was in attendance, but his father, Tom Brady Sr., spoke.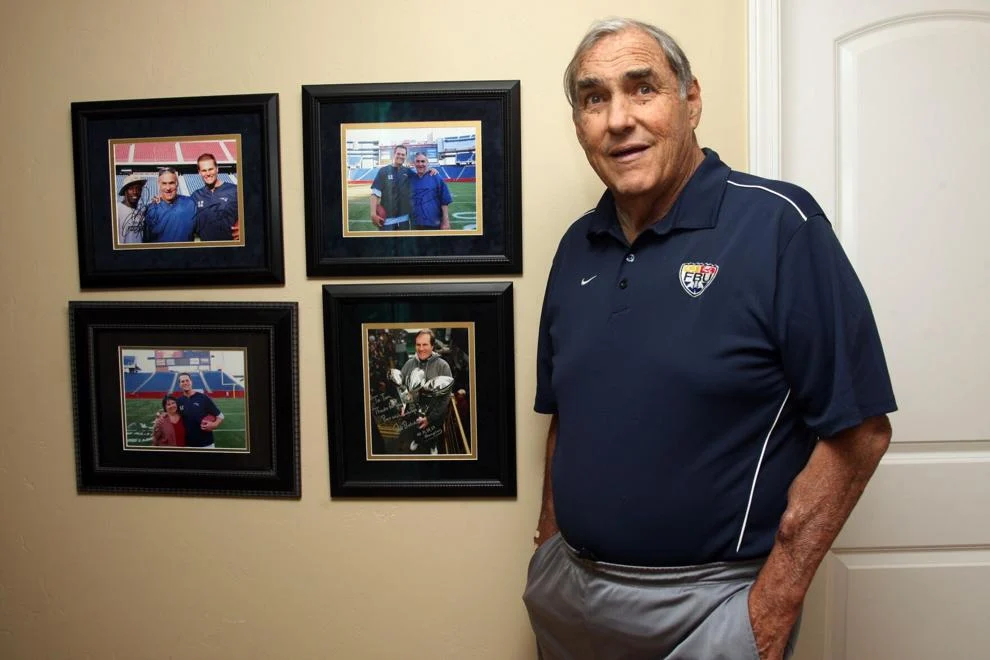 Mr. Martinez was a coach to Tom Brady from age 12 and into his NFL career, often texting him after NFL games, and holding a coaching session as late as last fall.
During 32 years of coaching at the College of San Mateo, none of Mr. Martinez's teams had a losing season. He coached three sports: football and women's basketball and softball. He retired from coaching in 2005 for health reasons.
Mr. Martinez's heath had declined due to complications from diabetes, said Paul Dooley, CEO of MatchingDonors.com, who was working to find a kidney donor for Martinez.
On June 12, 2001, Mr. Martinez announced that he had one month to live, due to complications related to lung surgery he had in 2008, as well as heart disease, kidney failure and diabetes.
"I've been told I'm out of here, and I don't accept that," he said. "I'm going to fight to the end.
"Tom Brady urged the public to send potential organ donors to MatchingDonors.com to see if they could be a kidney match. More than 300 potential donors stepped forward, Mr. Dooley said.
Mr. Brady posted this message on his Facebook page: "I am deeply saddened by the passing of my coach, mentor and friend. Coach Martinez's invaluable assistance and support will never be forgotten and will always have a lasting impact on my life. The time we spent together remain some of my fondest memories. His legacy of commitment, toughness and determination will live on forever.
"Mr. Martinez was married to Olivia Martinez, a longtime member of the governing board of the Sequoia Union High School District. They were married for 46 years, and had three children: Tom, Lisa and Linda; and six grandchildren.
The family requests that donations be made to the Tom Martinez Goal Line Fund to help people needing organ transplants through MatchingDonors.com. Click here for more information and to see videos about Tom Martinez.